Call our sales team on 0121 749 7977

(Monday to Thursday - 9.00am - 5.00pm, Fridays 9.00am – 2.30pm)

Item (s)
In Cart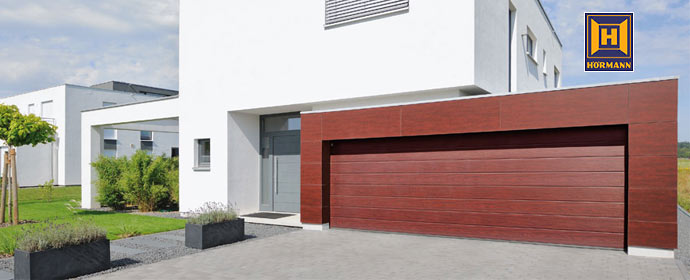 Hormann Sectional Range
This section contains the Hormann range of Sectional doors .

As the name implies, sectional doors are made-up from separate sections rather than a single panel. This allows for exceptionally smooth operation both manually and when electrically operated.

The sectional door mechanism has several distinct advantages over other mechanism types. Sectional doors ensure maximum drive-through width because the frame fits directly behind the door jamb and also allows for greater headroom clearance, vital for taller vehicles such as 4x4s. Even with electric operation, the door and mechanism is designed for optimum use of available garage headroom.

To ensure a long-term resilience against the elements, hot galvanised steel is used for sectional door panels and frames. Sections are embossed and coated with a plastic polyester primer to provide the finest protection system available. All Sectional doors are supplied pre-finished in white and are ready-to-fit almost any sized garage opening.

The colour charts contained on these pages are for representation purposes only , you must refer to an RAL chart for accuracy .