Call our sales team on 0121 749 7977

(Monday to Thursday - 9.00am - 5.00pm, Fridays 9.00am – 12.30pm)

Item (s)
In Cart
Lifting Gear
What lifting gear do I require and what Material do I want the door to be made from?

When choosing a garage door, as with any home improvement product, there will be aspects of its looks and maintenance which will sway your decision. While all one-piece doors are manufactured using high strength reinforcing steel bracing to ensure rigidity and longevity, the material used on the surface face of your door needs to be carefully chosen to suite your requirements.

Steel garage doors offer a great combination of robust construction and excellent value for money. They are available in a wide range of attractive styles to suit modern or traditional homes. Our steel doors can be supplied in a range of colours and finishes as standard.

Timber garage doors combine the warmth and beauty of real wood and the very best of garage door engineering. Supplied treated with a microporous neutralising base stain, timber doors are designed to be stained to suit your requirements, and require regular care and attention to retain their good looks.

GRP (Glass Reinforced Polyester) garage doors offer the user a low maintenance finish combined with unrivalled aesthetics. With the choice of gloss white or authentic woodgrain finish in eight colour options, the range of popular designs with crisp, clean detailing will complement any house style. GRP garage doors need only the occasional wipe down to retain their quality finish.


What size do I need?
Garage doors are available to fit most garage openings. All styles of door can be ordered in one-car size (typically between 2134mm (7'0'') and 2439 (8'0'') wide, and 1984 (6'6'') and 2136mm (7'0'') high, and the majority also come in double size 4269mm (14'0'') wide.
What operating system do I want?
We offer both manual operation and the optional luxury of radio remote-controlled opening.
The Canopy Door
which operates in vertical tracks on the door's side-frame, and when fully opened, forms a canopy of about one-third of the door's height above the opening.
The Retractable Door
which is guided by horizontal tracks inside the garage, and recedes completely when fully opening.
Double Garage Doors
are also guided by horizontal tracks inside the garage, and are designed to ensure that operation is as effortless and smooth as a single door.
The Sectional Door.
Opened by a vertical lift action, guided by fixed vertical and horizontal tracks, the sectional door has the advantage of having no out-swing when opening or closing, allowing for close parking either side of the door. Ideal for use with larger vehicles, such as 4x4s and people carriers, sectional doors are also climate-sealed when installed.
Radio remote-controlled electric operation. All new up & over and sectional doors are capable of being electrically operated using our range of automatic operators. They are also suitable for retro-fitting to most existing garage door installations. See the separate section for details.
Tracked
Tracked lifting gear uses horizontal tracks to support the door in the garage in the open position. The tracks are supported against the garage ceiling or side walls.

This gear is ideal for electric operation and is the standard lifting gear for double width doors. The door tension springs are typically located on the frame legs, on either side of the door.

For more info visit www.garagedoorinstallers.co.uk
Canopy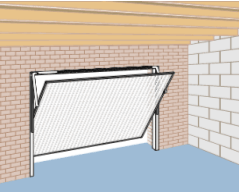 Canopy lifting gear leaves around one third of the door protruding from the front of the garage when the door is open (forming a canopy). This is the most common type of door as it is the quickest to fit and is a lower price than other types of operating gear.

If your existing garage door has canopy lifting gear, it is likely that the spring will run across the top of the door. Canopy lifting gear is designed for manual opening so the introduction of a garage door motor requires an optional extra called a bow arm converter to work properly , its worth bearing in mind that if you wish to automate your door at a later date the tracked version of the same door is the correct choice as it will be cheaper in the long run .

Roller Door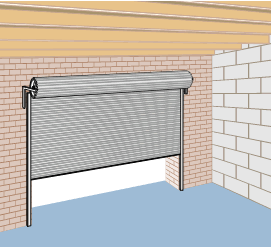 Roller doors are growing in popularity as homeowners look for a door which saves space, gives the full drive through width to the garage and allows the car to be parked on a short driveway.

Henderson roller doors are constructed from a continuous sheet steel 'curtain'. This runs up guides fixed to the garage wall and rolls around a drum installed above the door opening. As roller doors fit directly onto brickwork behind the opening, you keep the maximum drive through width into your garage.

With a straight vertical opening and closing, there is no out swing or arc of travel as the roller door moves. This means that you can park your car right up to the door both inside the garage and on the driveway (ideal for short driveways). As the door rolls around a drum, it also reduces the amount of space taken up in your garage by the door - giving more storage space

Sectional Doors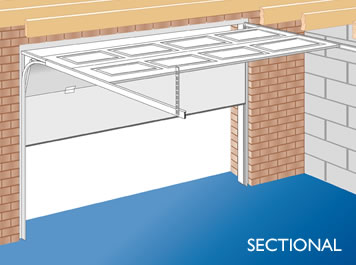 Sectional doors are growing in popularity as homeowners look for high security and insulation to keep the garage as an extra room rather than a home for the car.

Jointed door panel sections with nylon rollers run along vertical tracks and then fully into the garage ceiling meaning the full drive through width and height can be obtained .


With a straight vertical opening and closing, there is no out swing or arc of travel as the door moves. This means that you can park your car right up to the door both inside the garage and on the driveway (ideal for short driveways).

Sectional doors do not fit inbetween the brick opening they install behind the opening into the reveal .so you should order the door size the same as the brick opening as theres no frame required . If you are not sure please call our technical department